Last updated 23 December 2019
Kerstfeest 2019 bij de Vereniging Abovian – Christmas Party 2019 at Abovian Centre –
Նախատոնական հանդես 2019 «Աբովյան» կենտրոնում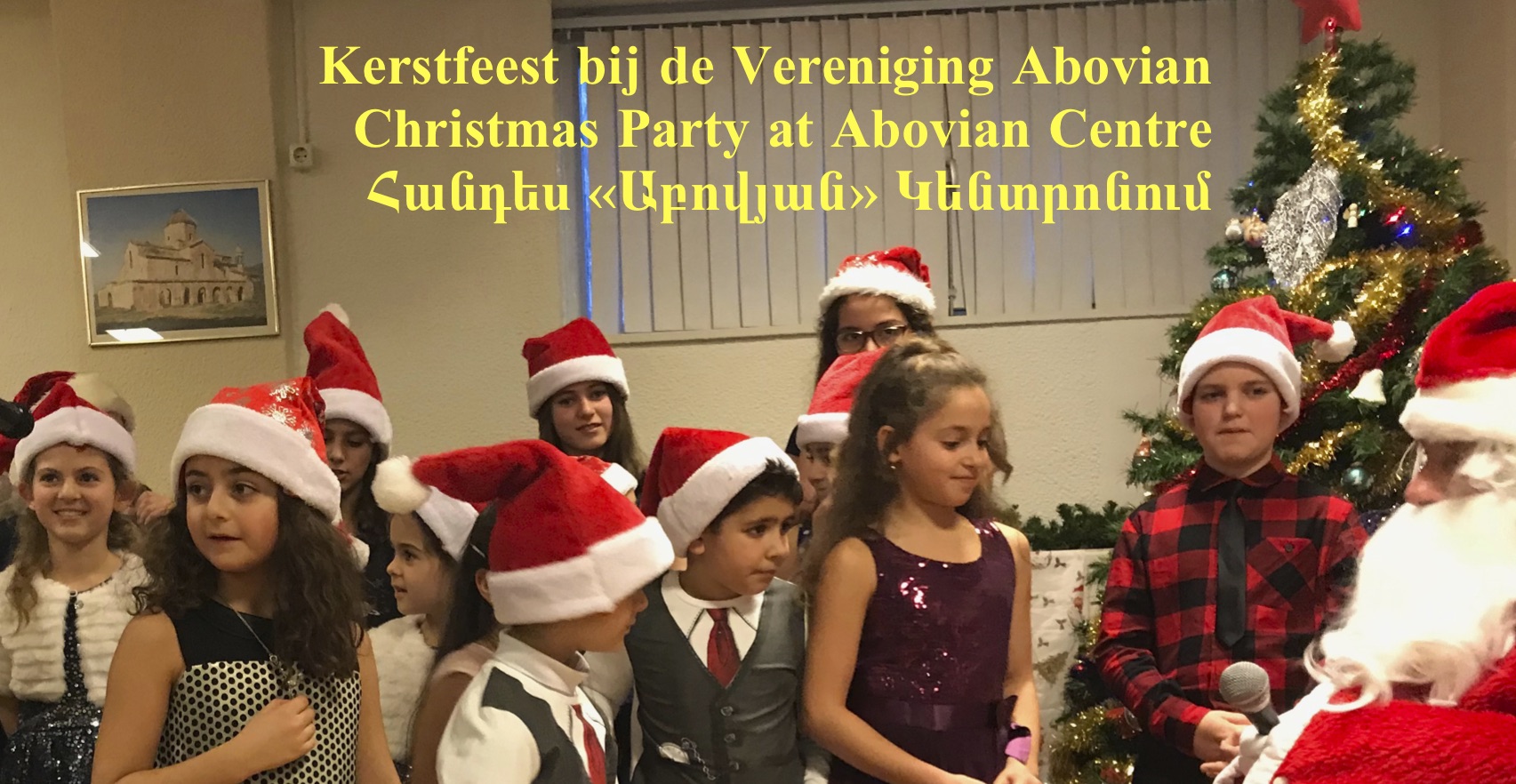 Kerstfeest 2019
bij de Vereniging Abovian in Den Haag
Wat:
Feest in kerstsfeer, kerstman met cadeautjes voor kinderen, kleurwedstrijd, Armeense maaltijd (BBQ), zang, dans, gezellige muziek! Iedereen is welkom!
Datum:
Zaterdag, 28 december 2019 om 15.00 uur
Plaats:
Clubgebouw van de Armeense Culturele Vereniging Abovian
Weesperstraat 91 – 2574 VS Den Haag
Toegang:
Volwassenen 15,00 euro inclusief Armeense maaltijd, kinderen gratis
Voor toegang is reservering noodzakelijk via info@abovian.nl
vóór 27 december 2019
---
Christmas Party 2019
at Abovian Centre in The Hague
What:
Party in Christmas atmosphere, Santa Claus with Gifts for Children, Colouring Contest, Armenian Meal (BBQ), Song, Dance, Armenian Music! Everybody is welcome to this event!
Date:
Saturday, 28 December 2019 at 3:00 p.m.
Place:
Abovian Armenian Cultural Centre in The Hague
Weesperstraat 91 – 2574 VS The Hague, The Netherlands
Admission:
Adults 15 euro including Armenian dinner. Admission is free for children.
For admission a reservation is necessary via info@abovian.nl
before 27 December 2019
---
Նախատոնական հանդես 2019
Հաագայի «Աբովյան» կենտրոնում
Ի՞նչ`
Նախատոնական միջոցառում` Ձմեռ պապի նվերներով երեխաների համար, ներկելու մրցույթ, հայկական ընթրիք (խորոված), երգ, պար, աշխույժ երաժշտություն։ Հրավիրում ենք բոլորին մասնակցելու այս միջոցառմանը։
Թվական`
Շաբաթ, 28 դեկտեմբերի 2019, ժամը 15.00-ին
Վայրը`
Աբովյան մշակութային կենտրոն
Weesperstraat 91 – 2574 VS The Hague, Նիդերլանդներ
Մուտքը`
Մեծահասակների համար 15 եվրո ներառյալ հայկական ընթրիք, երեխաների մուտքն ազատ է
Անհրաժեշտ է տեղերն ապահովել էլ. նամակով` info@abovian.nl
ս.թ. դեկտեմբերի 27-ից առաջ
---