Last updated 27 June 2021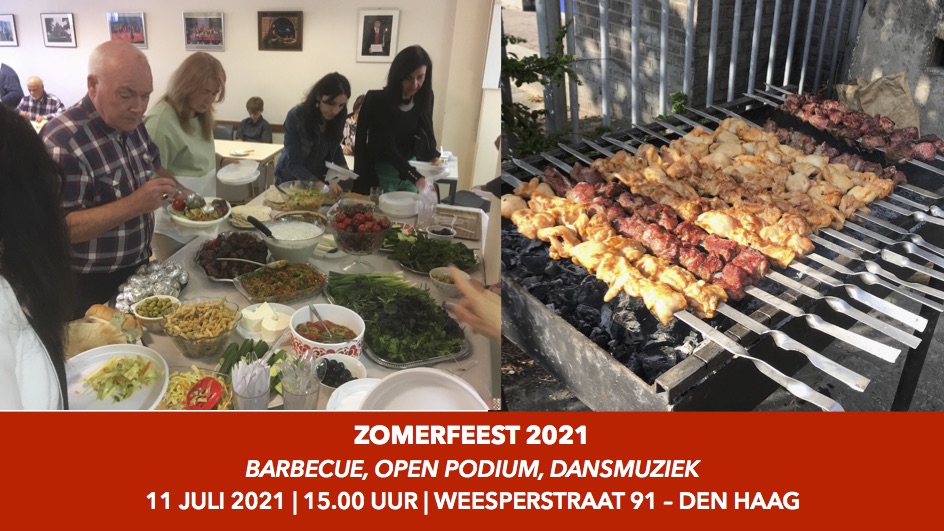 Zomerfeest met BBQ 2021
Leden en vrienden van de Vereniging Abovian zijn van harte welkom!

Zomerfeest 2021 met barbecue, Armeense maaltijd, open podium, gezellige muziek, dans, zang voor de herstart van de Vereniging na lange COVID-19 sluiting.
Datum: Zondag, 11 juli 2021
Tijd: 15.00 uur
Plaats: Clubgebouw Vereniging Abovian
Adres: Weesperstraat 91 – 2574 VS Den Haag
Toegang: Volwassenen 15,00 euro inclusief Armeense maaltijd
Wees er snel bij! Voor toegang is reservering noodzakelijk via info@abovian.nl
vóór 6 juli 2021
Vakantie:
• Elke zondag van 14.00-17.00 uur is de Vereniging Abovian geopend.
• Van 12 juli t/m 28 augustus 2021 zijn er geen lessen.
Summer Party with BBQ 2021
Members and friends of Abovian Association are most cordially welcome!

Summer Party 2021 with barbecue, Armenian dinner, open stage, dancing music, dancing, singing to mark the restarting of Abovian Centre after a long period of COVID-19 closing.
Date: Sunday, 11 July 2021
Time: 3 p.m.
Place: Abovian Cultural Centre
Address: Weesperstraat 91 – 2574 VS Den Haag
Admission: Adults 15 euro including Armenian dinner

Be quick! For admission a reservation is necessary via info@abovian.nl
before 6 July 2021
Summer holidays:
• Abovian Centre is open every Sunday from 2 pm to 5 pm.
• There will be no lessons from 12 July to 28 August 2021.
Ամառային հանդես 2021 խորովածով
Մենք մեծ սիրով կողջունենք Աբովյան միության անդամներին և բարեկամներին

Ամառային հանդես 2021 խորովածով, հայկական ընթրիքով, ազատ բեմում ելույթներով, պարային աշխույժ երաժշտությամբ, երգով ու պարով, որպեսզի նշենք Աբովյան միության աշխատանքների վերսկսումը ԿՈՎԻԴ-19 համավարակի պատճառով երկար դադարից հետո։

Թվական` Կիրակի, 11 հուլիսի 2021
Ժամը` 15-ին
Վայրը` Աբովյան մշակութային միության կենտրոն
Հասցե` Weesperstraat 91 – 2574 VS Den Haag
Մուտքը` Մեծահասակների համար 15 եվրո ներառյալ հայկական ընթրիք

Շտապե՛ք ամրագրել ձեր տեղերը։
Անհրաժեշտ է տեղերն ապահովել էլ. նամակով` info@abovian.nl ս.թ. հուլիսի 6-ից առաջ
Ամառային արձակուրդներ
• Աբովյան միության կենտրոնը բաց է ամեն կիրակի ժամը 14-ից 17-ը։
• Հուլիսի 12-ից մինչև օգոստոսի 28-ը դասեր չեն լինելու։