Last updated 2 June 2021
Hervatting activiteiten – Resuming activities – Աշխատանքների վերսկսում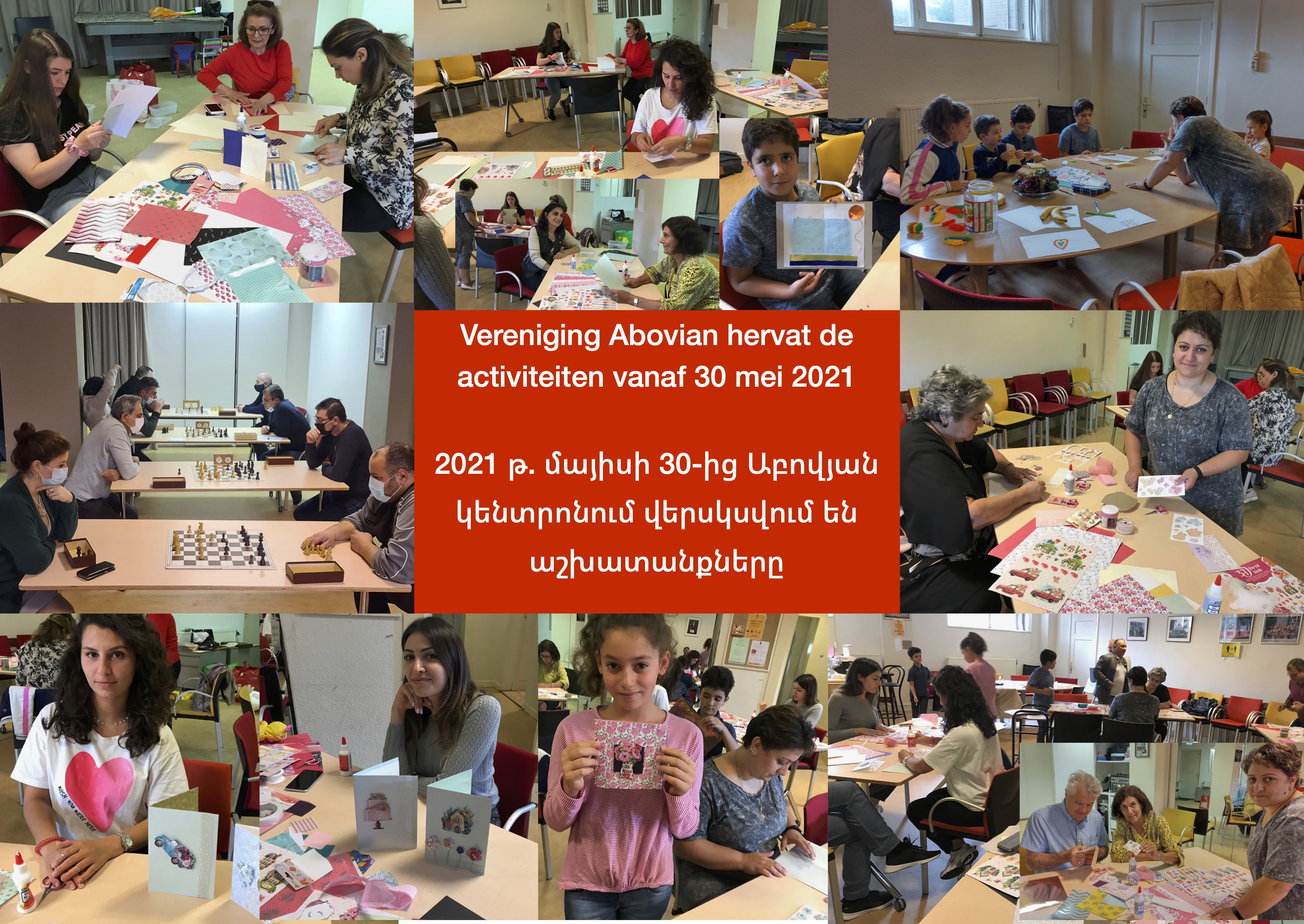 Hervatting activiteiten Vereniging Abovian
Vanaf zondag 30 mei 2021 werden de Armeense taal-, teken- en danslessen voor kinderen bij de Vereniging Abovian hervat. Voor het moment zijn er nog geen zanglessen.
11.00 uur – Armeense taallessen voor kinderen, Lerares Lilit Muradyan
11.00 uur – Tekenlessen, Lerares Hasmik Khalafyan
12.00 uur – Danslessen, Lerares Lusik Nersesyan
Ook de andere activiteiten zoals de zondagmiddag-bijeenkomsten beginnen weer per 30 mei. Themadagen, spellen voor kinderen, feesten, schaaktoernooiën enz. worden voorbereid.
Het clubhuis van de Vereniging Abovian is aangepast aan de regels van COVID-19.

---
Resuming activities at Abovian Centre
From Sunday 30 May 2021 the Armenian language, drawings and dance lessons for children have been resumed at the Abovian Centre. For the moment there are no singing lessons.
11 a.m. – Armenian language for children, Teacher Lilit Muradyan
11 a.m. – Drawing, Teacher Hasmik Khalafyan
12 noon – Armenian dance, Teacher Lusik Nersesyan
The other activities such as Sunday meetings have also been started again from 30 May. We are preparing thematic lectures, games for children, parties, chess tournaments etc.
Abovian Centre has been adjusted to the COVID-19 rules.
---
Աշխատանքների վերսկսում «Աբովյան» կենտրոնում
Կիրակի 30 մայիսի 2021 թվականից «Աբովյան» կենտրոնում վերսկսվել են հայոց լեզվի, նկարչության և պարի դասերը երեխաների համար։ Այս պահի դրությամբ երգի դասեր չկան։
Ժամը 11-ին – Հայոց լեզվի դասեր, ուսուցչուհի` Լիլիթ Մուրադյան
Ժամը 11-ին – Նկարչության դասեր, ուսուցչուհի` Հասմիկ Խալաֆյան
Ժամը 12-ին – Պարի դասեր, ուսուցչուհի` Լուսիկ Ներսիսյան
Այլ միջոցառումներ, ինչպես օրինակ կիրակնօրյա հանդիպումները նույնպես վերսկսվել են մայիսի 30-ից։ Մենք պատրաստում ենք թեմատիկ օրեր, խաղեր երեխաների համար, խնջույք, շախմատի մրցաշարեր և այլն:
«Աբովյան» կենտրոնը հարմարեցված է համապատասխան COVID-19-ի կանոններին։